High Call Volume - Options to Reach Us
X
Empowering Our Community
El Paso Electric's Total Economic Impact in 2017: $863,120,979
Throughout our 117-year history, we've always been more than just an energy provider. We are a local company engrained in this community. Like you, we are residents and neighbors who make up a company that has created and sustained jobs for several generations.
The things we do as a responsible corporate citizen ripple throughout the region. As a local employer, we make a substantial annual economic impact, totaling an estimated $863,120,979 in 2017.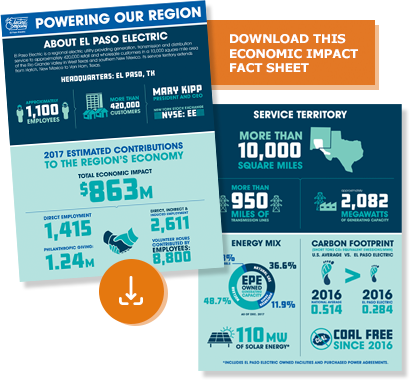 This happens in many ways, from corporate giving and employee volunteering, to operating activities and the creation of several hundred jobs in our area. The salaries earned by our 1,100 employees and payments made to our contractors power commerce throughout our region. In fact, El Paso Electric is responsible for the direct and indirect employment of 2,611 individuals living in our region.
$1.2 Million
Dollars Donated
In 2017 El Paso Electric donated approximately $1.2 million in charitable contributions to more than 170 organizations throughout our service territory. These philanthropic contributions supported 14 jobs and generated $396,492 in labor income.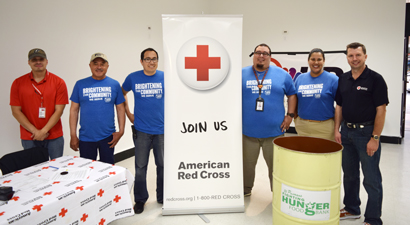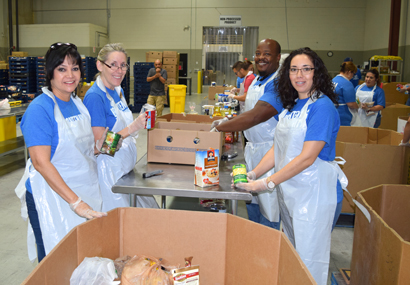 8,800 Volunteer Hours
Last year our employees volunteered 8,800 hours of their own time to support worthy causes and events. The total economic impact from our donations and volunteer hours resulted in almost $1.8 million in total output in the region. Overall, for every dollar that El Paso Electric donated or volunteered, $1.50 was generated in economic activity in terms of goods, services, and intermediate inputs.


Powering Economic Growth
We know the importance of making meaningful contributions in order to help our community thrive. This is why we participate in funding economic development activities every year. We also provide energy efficiency incentives to our customers, so that we can help them conserve electricity and save more on energy costs.
By being a key driver of commerce, we can help ensure that we will remain economically competitive as a community. El Paso Electric is proud to be a part of the growth and continuing success of our region.