High Call Volume - Options to Reach Us
X
Moving Forward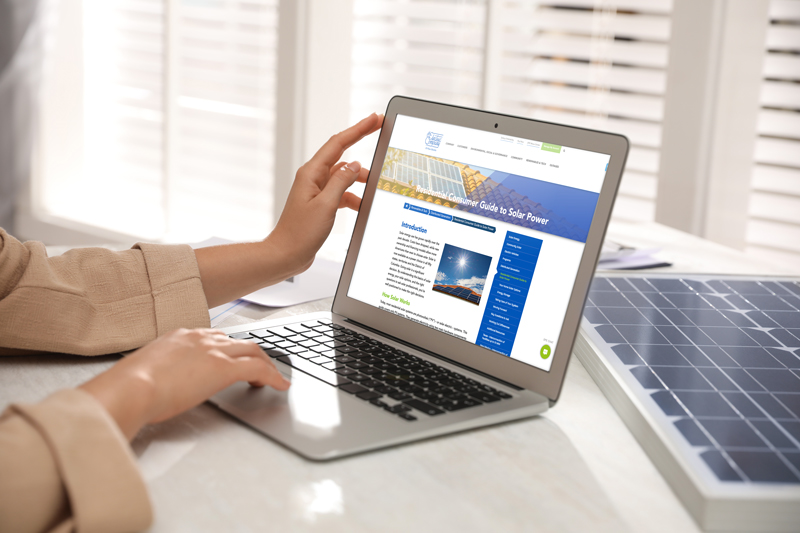 When evaluating your options to go solar, you should always do your homework, talk to friends and neighbors who have chosen solar, use common sense, and be active and engaged in dealing with solar companies. Below are some suggestions on how to become a better-informed consumer.
Know Your Situation
Know your electricity usage. You should understand how much electricity your home uses. Your utility bill will show your electricity usage in kilowatt-hours and the amount you pay for that electricity. Are you planning any changes that will affect your electricity use, such as buying an electric vehicle, planning an addition to your home, or improving your home's energy efficiency? Does your home always need electricity even during a power outage? Electricity usage can vary significantly based on your geography and time of year. Discuss your usage with the solar companies you interview to get a system sized for your needs.
Know your electricity rates. Consider how your electricity bills are calculated. Do your electricity rates differ depending on the time of day? Does your utility charge a fixed monthly fee based on your peak electricity usage (a.k.a. a demand charge)? Will the utility compensate you for any extra electricity your solar system produces beyond your need, and, if so, at what rate? These factors can affect the economics of whether to go solar.
Know your roof. Is your roof appropriate for solar? Does it receive a good amount of sunlight or is it mostly shaded? How old is the roof? If you plan to replace it soon, do so before installing a rooftop solar system—your solar company may help coordinate with the roofing contractor. In America, roofs facing due north are not good candidates for solar because they don't receive direct sunlight. A solar professional can calculate the amount of sunlight expected to reach a planned system on any roof over the course of a year.
Know your finances. Like any major decision for your home, it's wise to understand your finances when shopping for solar systems. Although sunlight is free, buying or leasing solar systems, or paying for electricity under a PPA, are not.
Do Your Homework
Get the best deal. As with any major purchase, get multiple bids for your solar system project. Many Americans will find the market highly competitive, with multiple solar companies competing for your business. Make sure you're comparing apples with apples by closely reading the terms from different firms. Use this guide and other resources throughout the process.
Research your solar company.

Before entering an agreement with a solar company, do your homework. Ask for references of solar installations in your area and call them. Ask for proof of licensure, and check with your county or state to ensure the firm is in good standing. Ask if they are a member of the Solar Energy Industries Association (SEIA), the national trade association for solar that requires all its members to abide by the SEIA Solar Business Code. Check with the local Better Business Bureau and other consumer guides.

Understand any tax credits or other incentives.

There is a 30 percent federal tax credit available through 2019, on the total cost of the solar system, but only if you own the system. The federal tax credit drops to 26 percent for 2020, and 22 percent for 2021, before ending in 2022 for residential systems. Other state and local incentives may be available, as well as programs from your local utility. Keep in mind that incentive programs can change, and some may only be available if you own the system. Many can be found online on the Database of State Incentives for Renewable Energy (see "Additional Resources" below).

Understand any potential tax implications of credits or incentives.

Remember, only a CPA can give tax advice and only an attorney can give legal advice. When consulting such professionals, choose ones who are experienced with solar.

Understand how you are compensated for excess electricity.

Net metering allows residential consumers to send electricity that they do not use back into the electric grid and "spin the meter backwards." Although net metering is widely available, net metering rules are set by the jurisdiction that you live in and can change. Some states or service territories have moved or are looking to move to different programs to compensate you for excess electricity generated by your system, typically at rates lower than what you pay for electricity. Ask your solar professional about the rules in your area.

Understand Renewable Energy Certificates (RECs).

RECs or SRECs (Solar Renewable Energy Certificates) represent the renewable qualities of the electricity your solar system generates. If you own RECs, you can claim you use "solar" or "renewable" electricity from the system. Selling or transferring your RECs can help lower the cost of your system, but you can lose the ability to make "renewable" or similar claims about your home. Check your contract to see who will own the RECs. It's a new topic for many residential consumers and solar companies can explain RECs and REC ownership to you if available in your area.

Understand if PACE is available to you.

In some states, you can finance a solar system with Property Assessed Clean Energy (PACE) financing in which you repay over time what you borrow using a line-item on your property tax bill. Not all states allow residential PACE programs and, among those that do, each state's PACE program is unique. If you are considering a PACE program, you need to be familiar with the rules of your state's PACE program, if any. Ask your solar professional and do your homework.
Understand the Agreement
Understand the terms. Contracts are legally binding and should be read carefully. Make sure you understand what you are receiving from the solar company and how much you are paying. Insist that terms that are important to you are included in the signed contract.
Don't hesitate to ask questions. The best transactions are ones where the consumer and the contractor both fully understand the deal. Asking questions upfront can avoid misunderstandings later in the process. Here are some of the top questions that consumers ask when entering into a solar transaction.
Separate estimates from guarantees. Many Americans can save money by choosing solar, but savings depend on the cost of the electricity from your solar system compared to cost of electricity from your utility. If a solar company promises savings, or states that electricity costs from your utility will increase in the future by a certain amount, ask them to explain. Make sure you understand any assumptions made regarding future utility rates and rate policies. According to the U.S. Department of Energy, national residential electricity rates increased on average by 3.4 percent annually between 2004 and 2014. Rates in your area may have changed more or less during that period and may change more or less going forward. Check with your utility or state utility regulatory office for any planned rate changes. Rates and utility rate policies may change even if no changes are planned today.
Fully understand warranties. Like any other major residential product or service, a solar system typically includes warranties covering parts and labor. There may be separate warranties for major system components, as well as how the system interacts with your roof warranty. Ask your solar company to explain what your warranties protect, for how long, and who stands behind them.
Know what happens if your company goes under. While the residential solar industry is booming, like any other industry, some companies do go bankrupt. Major components of a system (e.g., solar panels) have warranties backed by their manufacturer, so check the contact information for warranty servicing. In addition, there may be companies in your area that offer maintenance and repair services.
---
Source: Solar Energy Industries Association. SEIA. June 2018. Residential Consumer Guide to Solar Power, www.seia.org